Situated on the southern side of the Black Mountain (Montagne Noire), southern edge of the Massif Central, facing Mont Alaric, the vanguard of the Pyrenees, La Livinière spread its vineyards over the Aude valley, full of history, must pass between the Mediterranean and Atlantic worlds.
Near the Canal du Midi, its trees and its nonchalance, midway of the Narbonne-Roman city, city of this Aymerillot that sang Victor Hugo and Carcassonne-the-proud where fleet even the banner of Raymond Trencavel. Here, the sun, exposure, climate and soil types have come together to give life to these unique wines, whose reputation is well established: the name "La Livinière".
Our earth and soul, our Minervois
Pebble top soil with a high percentage of clay, chalk and manganese, exceptional terroir due to the nature of its soil and its exposure.
Area : 40 Ha (98 acres )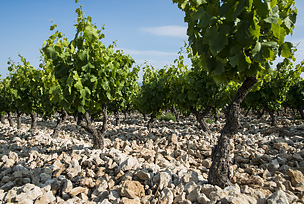 Ce message est également disponible en : French